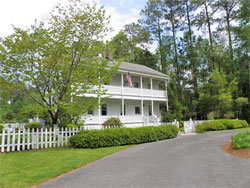 The historic Reinhard House was built near present-day downtown Savannah for the Reinhard family around 1840.
This German vernacular farmhouse is a unique survivor of Savannah's 19th century architectural history.
It was moved, to escape demolition, to its current location at the Botanical Garden in 1990. Today it serves as the host site and headquarters for the Savannah Area Council of Garden Clubs, Inc. and its member clubs.

Future plans for the house include further renovation for historical accuracy, expansion of our horticultural library, and the creation of a Reinhard House Association to explore the farm family lifestyle of 19th century coastal Georgia.
The Reinhard House is available for meetings and special events on a limited basis.

Please call or email our office for rates and further information.
History of the Reinhard Farmhouse
This is a circa 1840 farmhouse, built of heart pine with gingerbread trim. Originally located on 12 acres known as the Reinard Farm, this house was moved twice to make way for Hillcrest Cemetery and the Truman Parkway. It is a rare example of rural architecture and one of only two pre-Civil War farmhouses in the Savannah area.
Original owners were William & Anna Reinhard, who later deeded the land to Frank Werm, son of Anna.
Other residents were the Meyer family who sailed from Germany to Savannah with their three daughters. Mr. Meyers contracted yellow fever aboard ship and was buried at sea. His wife Anna took possession of th property. With the help of Polly Berrian, a slave who was purchased in Charleston, S.C., the family farmed the land. Meyers' family members along with Polly are buried in Savannah. When the Botanical Gardens were dedicated in 1991, Polly's grandson, Anchors Jones attended the ceremony.
The Savannah Area Council of Garden Clubs, Inc. which sponsers the Botanical Garden was instrumental in land acquisition to create the garden and saving the farmhouse from destruction. The farmhouse was moved to it's present location in 1992. Land was provided by Chatham County.
Structurally, the farmhouse was in amazingly good shape before it was moved. After nine months of restoration the farmhouse was complete.
The Botanical Gardens consists of 10 acres, which include, magnificent rose gardens, winter, fall, herb, children's garden, vegetable gardens, camellia, perennial, shade and fern gardens. Nature trails run around a lovely pond. The gardens also include an amphitheatre and archaeological study site. The Wildlife Federations have recognized th Botanical Gardens as an official wildlife habitat.
The Garden is sponsored by the Savannah Area Council of Garden Clubs, Inc. a non-profit organization consisting of 15 garden clubs.